2020 was a year with huge impact on all facets of society. Global lockdowns forced brands to rapidly look for new and alternative ways to reach their target audience. Marketplaces offer enormous potential and the number of products and partners active on these platforms has exploded. In the third quarter, bol.com's consumer sales increased by 46.6%*. The number of 3rd party sellers (sales partners) increased by no less than 73%. In total, over 20 million products are for sale on bol.com. Looking at these numbers, it's obvious marketplaces offer a huge growth market for brands, but this also means considerable competition.
This 5-step plan offers concrete tools for anyone who wants to win the battle on marketplaces. Let's go!
Roadmap
1. Define your objectives: how to combine marketplaces with your other channels?
Think carefully beforehand about what you want to achieve as a company by selling on a marketplace. The platforms can be used as an extra sales channel, a means to increase visibility, to get a grip on the brand experience and the product range. Ultimately, the main goal is usually to increase sales without cannibalizing your own channels.
At Newcraft we set to work on this objective for Maxeda DIY group. As the Brico and Praxis stores are located in the Benelux, we chose to expand to marketplaces in France, Germany and later Spain and Italy. Choosing the right marketplaces led to the desired incremental growth. International expansion naturally requires support in other languages, so don't forget to take the extra work into account.
2. Choose the right platform:
After defining the business objective, determine which e-commerce platforms are most interesting for your products. For example, there are two types of marketplaces to consider:
A generalist (horizontal) marketplace is one that focuses on a broad offering for a broad demand.
A specialist/niche (vertical) marketplace is a marketplace that focuses on a specific need with a specific offer.
The following criteria should be considered in your decision process:
Is your (existing or desired) target audience present in this marketplace?
How large are the visitor numbers and the offerings in your product category?
What are the costs?
Does the platform offer any logistics solutions?
Does the platform also offer links, and which integrators (e.g. ChannelEngine, Tradebyte, Effectconnect, Vendiro) are supported?
An integrator is software that can link your systems (for example: PIM, ERP, WMS) with multiple marketplaces. It is therefore smart to check this in advance, as your choice can be decisive for the future!
In choosing the right platforms for Maxeda, we looked at which marketplaces had most potential in terms of sales and assortment in the DIY category. We chose a combination of generalist (e.g. Amazon) and specialist marketplaces (ManoMano), benefiting from the high number of visitors of a platform like Amazon and the lower competition of a niche platform like ManoMano.

3. Choose the optimal assortment and ensure a good organic ranking
For retailers with a large number of products, one of the biggest challenges is selecting the products you are going to launch on marketplaces.
Of course you don't do this based on gut feeling but supported by data. There are many tools available that provide insight into search volumes, average order value and best-selling products within a particular category. Tools that can help you with this include Sitelucent, Helium 10, Clavis insight, Profitero , Brandview and the APIs of the relevant marketplaces.
Here's how to proceed:
Determine the biggest categories (based on search volumes/sales figures)
Analyze your assortment, compare best sellers based on price (e.g. Average Order Value) and estimate whether your products are competitive based on price, content, reviews and delivery time with the best offerings
Identify relevant products and launch them with optimized content. The following elements are important: Title, Specifications, Additional images, Optimized titles (based on relevant search terms), Product families, Videos, Description, Reviews, Brandstore (Amazon), A+ (Amazon) and Delivery time.
For our client Bakker.com, Newcraft optimized the most important products and product categories in terms of content. Well-structured and rich content has a direct effect on organic ranking.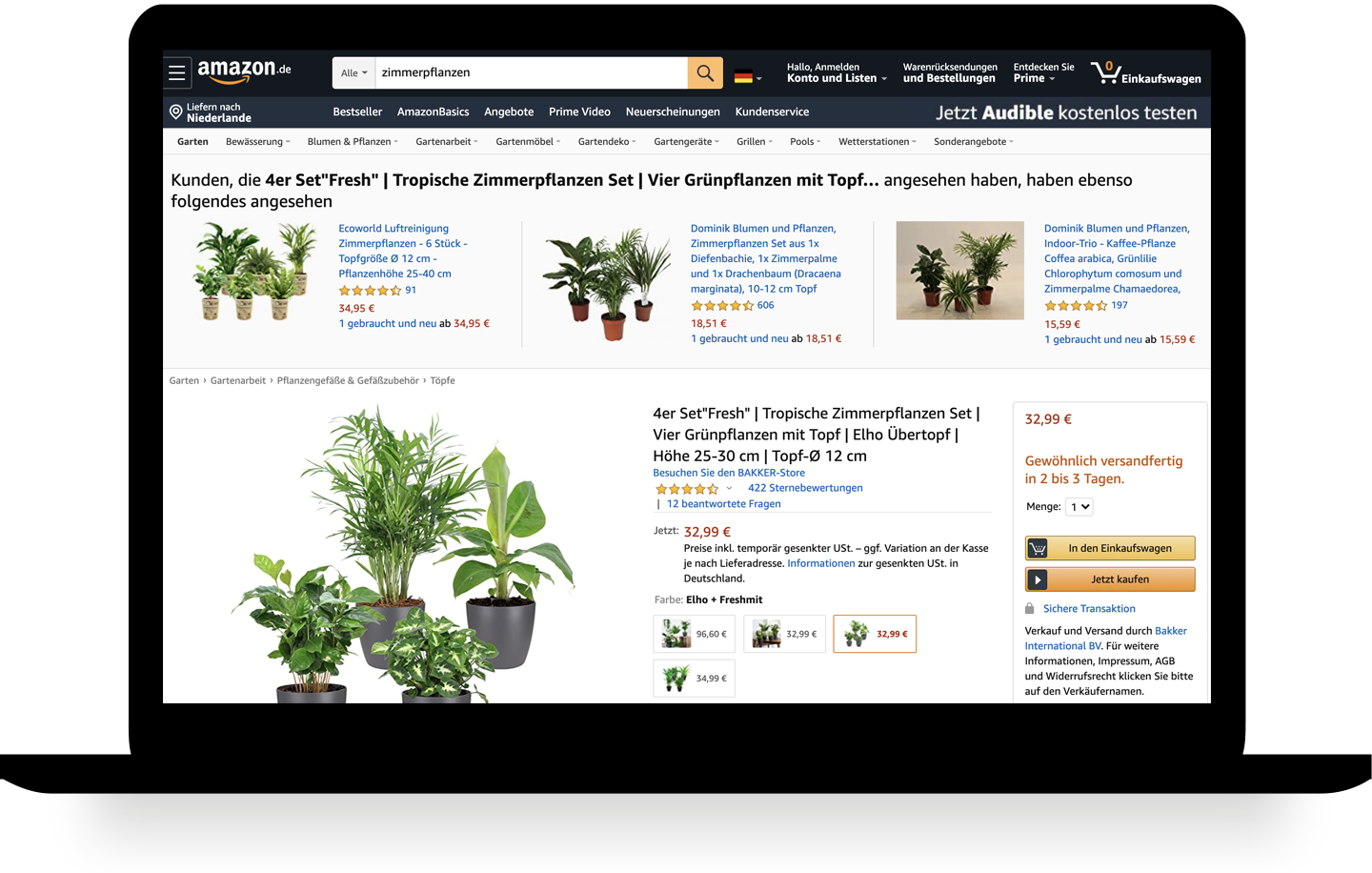 4. Boost your ranking by advertising on your products and combining it with deals/vouchers
To make your products stand out from the crowd, there is no way around advertising. With dominant players like Google, Amazon and Zalando it was already possible to advertise on search terms, but now bol.com enables this since January first. This means that here too you can determine on which search terms you can be found. Almost all marketplaces work with a CPC model (cost per click), so you only pay when the customer clicks on your ad.
Many marketplaces (e.g. bol.com, Cdiscount, Real.de, Wehkamp, Blokker) use the technology of Mabaya or Criteo. Amazon and Google have developed their own tooling. Through extensive research into relevant search terms, you ensure that your products become even more visible. And with a Deal or Voucher you can make your product temporarily extra interesting for the consumer! This has a positive effect on the conversion and this in turn increases your organic ranking.
5. Beat the competition and win the buying block
If there are multiple providers for the same product, the marketplace determines which offer they consider the best. This provider is then selected for the buying block.
The buying block is not necessarily won by offering a lower price than competitors. Delivery times, service scores and reviews also play an important role in the marketplace algorithms. Even with a slightly higher price, you can still win the buying block by providing better service or by delivering faster than your competitors. The delivery time can often also be accelerated by putting it in stock at the marketplace (Fulfilment by Amazon, Logistics via bol.com). This then leads to higher conversion, as all additional logistics options are available to the consumer.
This roadmap provides a basis for your first steps or optimizations on marketplaces.  But to continue to grow you need to continuously adapt, test, analyze and optimize. Have you mastered this well? Then you can quickly scale up to other marketplaces by using an integrator.
Are you curious how Newcraft can help your brand to become the 'king of the marketplace'? Please don't hesitate to contact Joost Jenneskens: joost.jenneskens@newcraftgroup.com.